Dukascoin

Cryptocur­rency by a swiss bank
Get first 5 DUK+ for free, buy
more and apply for rewards!
HOW TO EARN? Trade DUK+ worldwide
Dukascoins
released
Total
Yesterday
MCA accounts
opened
Total
Yesterday
The Dukascoin, designed as a crypto means of payment, is issued in limited quantity to serve as both payment and speculation. The Dukascoin is expected to gain in value due to a limited supply and being the first crypto currency in the Swiss banking industry.
Every client can get 5 Dukascoins by opening an MCA account. After that, they can either sell them or buy more on the market. Furthermore, they can withdraw Dukascoins from the Bank to their external blockchain wallets. Selling and withdrawing to blockchain becomes available once the client meets the incoming deposits turnover requirement.
Referral program
Any MCA account holder can get a referral code in order to invite friends. The referrer will receive 5 Dukascoins as remuneration for every invited friend who opens MCA account and meets the incoming deposit turnover requirement. New clients will get 5 Dukascoins for free as a welcome bonus.
1
Open
Open an MCA bank account and get 5 Dukascoins for free
3
Use
Pay commissions, trade on marketplace, accumulate and get Staking Reward
Exchange Rate
of the last deal
1 duk+
The Bank organizes and supports an infrastructure for clients enabling them to make public or private offers to buy or to sell Dukascoins at their chosen price.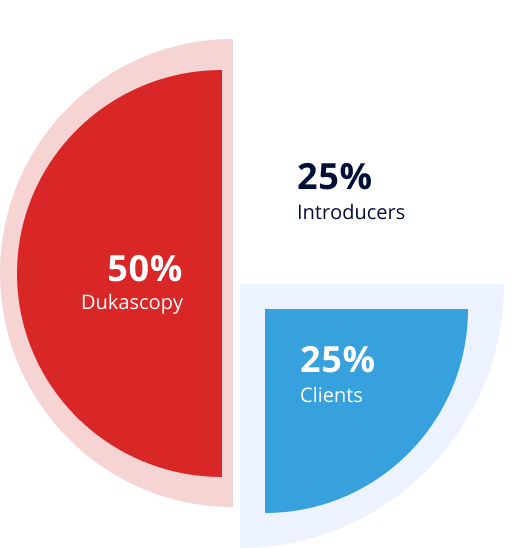 Dukascoins emission
Dukascoins are released in the following way: every new MCA holder will receive 5 Dukascoins. Dukascopy Bank receives 15 Dukascoins in order to guarantee the liquidity of the Dukascoins on the market and pays 5 Dukascoins to eligible referrers for each referral which meets the incoming deposit turnover requirement.
The Bank will arrange on a regular basis independent audit missions to verify the accuracy of Dukascoins releases. Those audit missions will ensure compliance of the number of MCA accounts opened and the number of Dukascoins issued for the period in accordance with Airdrop concept.
The Stake Reward paid for stakes in Dukascoins
The amount of reward rate paid by the Bank depends on the Stake size.
THE EUR REWARD PAID FOR STAKES IN DUKASCOINS
Minimum Stake size
Coin Stake Reward rate paid by the Bank
for a 1 year Stake held with the Bank / with the personal blockchain wallet
Coin Stake Reward rate paid by the Bank
for a 3 month Stake held with the Bank / with the personal blockchain wallet
50
5% /15%
1% / 3%
100
7.5% /17.5%
1.5% / 3.5%
250
10% / 20%
2% / 4%
500
12.5% / 22.5%
2.5% / 4.5%
1`000
15% / 25%
3% / 5%
2`500
20% / 30%
3.5% / 5.5%
5`000
30% / 40%
5% / 7%
10`000
40% / 50%
6.5% / 8.5%
Coin reward schedule starting from October 1, 2021
Minimum Stake size
Coin Stake Reward rate paid by the Bank
for a 1 year Stake held with the Bank / with the personal blockchain wallet
Coin Stake Reward rate paid by the Bank
for a 3 month Stake held with the Bank / with the personal blockchain wallet
50
7,5% /9,5%
1,4% / 1,9%
100
8% /10.5%
1,6% / 2,1%
250
9% / 11,5%
1,8% / 2,3%
500
10% / 15%
2% / 3%
1`000
12,5% / 17,5%
2,5% / 3,5%
2`500
15% / 20%
2,7% / 3,6%
5`000
20% / 25%
3,3% / 4,2%
10`000
30% / 35%
5% / 5.8%
THE EUR REWARD PAID FOR STAKES IN DUKASCOINS
Whitepaper
To get more information, please, download the Dukascoin Whitepaper
(subject to change during project development)
Download (1.2mb)